Occasionally I will post pictures of some of the more interesting projects that
I encounter in my shop. Enjoy.


Couesnon Cornet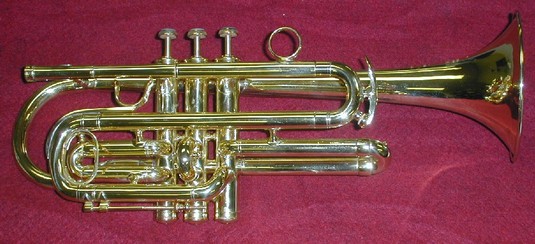 Before being sent off for a new coat of lacquer, this beautiful old Couesnon cornet received some custom modifications to fit the player's needs. The main tuning slide was rebuilt so it could be operated with the thumb, thus the player could tune any note "on the fly". The 3rd slide ring was also moved to the mouthpipe to act as a pinky ring.
Conn-O-Sax

How often to do you get to see one of these amazing instruments? I had the fortune and privilege of repadding and restoring this one for its lucky owner. Actually, other than replacing the pads and corks and giving it a good cleaning and polishing, it didn't need much else in the way of restoration. Cosmetically and mechanically, it was in pristine condition. Not a scratch or dent to be found, and no key swedging was needed.

Being careful to retain its original integrity, not just any pad was used in the repadding process. A set was custom made using the rings from the existing Reso-Pads. White leather without a resonator or rivet was used to match what was originally installed in the instrument. This model 22M was built in approximately 1928 and is pitched in the key of F. It has a range from low A to high G. Its sound is is more muted and mellow than a regular sax, similar to that of an English horn.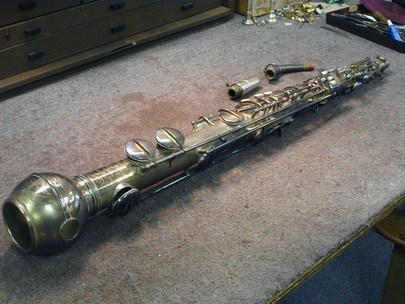 -Before-
It was nearly black with tarnish when it first came in. I didn't even realize the bell/bowl was gold-plated until I started the silver cleaning process.


More coming soon...